NEF Fellow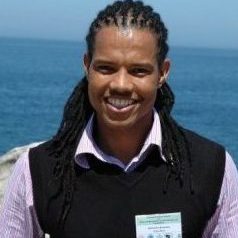 Mohlopheni Jackson Marakalala
Country:
South Africa
Area of Research:
TB Research
Institution:
Harvard School of Public Health
Einstein Challenge:
Mohlopheni hopes to discover new therapeutic and diagnostic tools to combat infectious diseases mostly prevalent in Sub-Saharan Africa. He hopes to contribute towards public dialogues that will help inform better health policies. He also envisions to build capacity in Africa by training PhD students from disadvantaged communities.
Mohlopheni Jackson Marakalala was born in Mokopane, South Africa. His interest in science was first triggered by the desire to help find a cure for HIV/AIDS, which had the most devastating effects during his teenage years. He decided to pursue a science career in infectious diseases, receiving his BSc and Honours degrees at the University of Limpopo. Mohlopheni earned his PhD degree in Chemical Pathology at the University of Cape Town. His doctoral research was awarded with the Bronte Stewart Research Prize for the most meritorious thesis submitted by a doctoral student in 2008.
Mohlopheni is currently a research fellow in immunology and infectious diseases at Harvard School of Public Health. His research is focused on the development of better therapeutic and diagnostic tools to fight Tuberculosis and other HIV-related opportunistic infections. Jackson has published in leading peer-reviewed journals and has presented his work at international conferences. He has received a number of funding grants and numerous awards for his scientific work and voluntary work. He was the chairperson of the Health Sciences Postdoctoral Association at the University of Cape Town and also served as Workshops Chair and Secretary of the Harvard School of Public Health Postdoctoral Association.
Jackson currently represents postdoctoral scientists in the Dean's Advisory Committee on Diversity and Inclusion at Harvard School of Public Health. In 2010, Jackson received the Sydney Brenner Fellowship that is awarded by the Academy of Science of South Africa to an outstanding young scientist conducting research in South Africa. In June 2012, he was selected to represent South Africa at the Lindau Nobel Laureate meeting in Germany, where he was also chosen to take part in a Nature.com panel discussion alongside two Nobel laureates on 'The role of science in the developing world'. The German state of Baden-Wuttenburg also selected Jackson to take part in a week-long programme, where he visited more than 10 scientific institutions in the region.
In 2014, Jackson was part of the first-ever Commonwealth Science Conference that was aimed at using science to tackle problems in Commonwealth countries. He was honoured as a Young Scientist at the 2015 World Economic Forum New Champions Meeting in China. He was specially invited to the 2015 Commonwealth Day reception in London where he met Her Majesty Queen Elizabeth II and The Duke of Edinburgh.
BACK TO PROFILES