NEF Fellow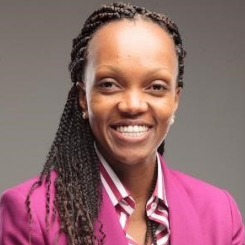 Evelyn Gitau
Country:
Kenya
Area of Research:
Cellular Immunology
Institution:
EMRI-Wellcome Trust Programme
Einstein Challenge:
Evelyn hopes to hopes to develop cheap, point-of-care diagnostic methods that can better stratify malnourished children, to inform on alternative clinical management for those that remain at risk of death due to infection despite nutritional rehabilitation.
Evelyn Gitau was born and raised in Dagoretti, Nairobi Kenya. She greatly attributes her career in science to the exposure she got both at primary and secondary level on the use of science to try improve the welfare of those less fortunate. She continued on this track when she joined the KEMRI-Wellcome Trust Programme as a Research Assistant in Pharmacology in 2002.
In 2008, Evelyn completed a Ph.D. awarded by the Open University UK in collaboration with Liverpool School of Tropical Medicine and sponsored by the KEMRI-Wellcome Trust Programme Kenya. Her studies focused on investigating the changes in protein levels as markers of severe disease where she employed proteomic tools to identify protein differences in plasma and cerebrospinal fluid of children with cerebral malaria compared to children presenting with other encephalopathies.
Evelyn returned to Kenya in 2007 and expanded her skills in cellular immunology as a Post Doctoral Assistant in Kilifi investigating the cellular immune responses to the P. falciparum malaria. In the course of her work, she became fascinated with both the overlap between severe malaria and other serious childhood infections as well as the interplay with severe malnutrition.
It is estimated that around 40-50% of infectious diseases remain undiagnosed in sub-Saharan hospitals mainly due to limitations of classical techniques such as microbiological culture of pathogens from patient samples, as well as the high cost of more sensitive molecular based techniques. This has a devastating impact on childhood survival, but also is a contributory factor to the over prescription of antibiotics with severe long-term consequences for the health of the population as a whole. Knowing the exact cause of disease may potentially improve decisions on therapy, reduce mortality and sequelae and lead to specific protective therapies.
To do this, Evelyn believes that Africa needs to embrace new technologies to improve on how common diseases are diagnosed. With this in mind, Evelyn has played a key role in helping establish the technical platform necessary to undertake internationally competitive research on disease pathogenesis and immunity, in Kilifi Kenya. Using what she has helped set up in Kilifi, she now focuses on trying to identify biomarkers from patient samples that may be used to quickly and cheaply distinguish aetiological causes of fever in severely ill children.
Evelyn has recently been appointed a Programme manager at the African Academy of Science – Alliance for Accelerating Excellence in Science in Africa (AESA) where she is responsible for the implementation of the Bill and Melinda Gates Foundation supported Grand Challenges Africa initiative, in which AESA is a partner.
BACK TO PROFILES