NEF Ambassador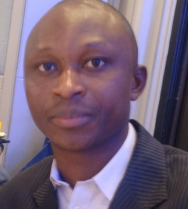 Cyrille Guel
Burkina Faso
Cyrille Guel is a Media and Information Literacy (MIL) practitioner. He is engaged in promoting youth participation in democratic governance in his country. He holds a BA in History from the University of Ouagadougou. After obtaining a Master's degree in Information and Communication Sciences a few years later (at the same university), he discovered the ubiquity of media and thus, acknowledge that it was essential to conduct civic education in this area.
Cyrille has most recently collaborated with the African Union on its African Governance Architecture Youth Engagement Strategy as well as with UNESCO through the Global Alliance on Media and Gender (GAMAG) and the Global Alliance for Partnership on Media and Information Literacy(GAPMIL). He is particularly proud of using Twitter to stimulate the quick response of the African Union on the political situation in Burkina Faso from October 2014 to September 2015.
In 2015, Noble was honoured as Young Scientist at the World Economic Forum in Dalian, China. In 2013, he was inaugurated as the youngest fellow of Uganda National Academy of Sciences and the only person to qualify to be in both the young and senior academy in Uganda. Noble is currently the interim president of Uganda Young Academy. Noble was also named a fellow of the Global Young Academy in 2013. In 2007, he won the Cochran Fellowship to do postdoctoral professional studies in the Department of Chemical Engineering at Massachusetts Institute of Technology. Thus far, Noble has supervised eight doctoral theses and 25 masters' theses. As such, he has authored 78 peer-reviewed scientific papers in reputable international journals with a citation H-Index of 15, i10-Index of 24 and 714 citations as of November 2015. In waste management research, Noble is ranked 35th globally and 2nd in Africa according to Google Scholar rankings.
BACK TO PROFILES