NEF Ambassador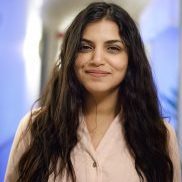 Basant Motawi
Egypt
Dr. Basant Motawi is a health and safety professional, who graduated from Johns Hopkins University, and has previously worked with the World Health Organization in Geneva, Switzerland in the Ageing and Life course Department.
Currently, she is doing a PhD in Epidemiology at the University of Maryland in USA. Her research focuses on the hidden health and economic burden of gender based violence, and aspires to advance policies that empower women.
As a long time youth advocate with over 3300+ hours clocked towards community development and engagement, Basant has led several initiatives to promote STEM education among young women.
BACK TO PROFILES