NEF Fellow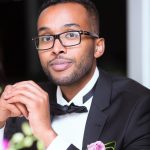 Abdigani Diriye
Country:
Somalia
Area of Research:
Cognitive Systems/Machine Learning/FinTech
Institution:
IBM Research Africa
Einstein Challenge:
Abdigani hopes to develop new techniques and platforms to help people securely mine, analyze and utilize the data they generate to access services (e.g. financial services, healthcare, etc.)
Abdigani is from Somalia and did his schooling in the UK where his curiosity led him to the sciences. Abdigani went on to receive a Bachelor's in Computer Science and Math from Queen Mary University London, a Masters' in Advanced Computing from King's College London and a PhD in Computer Science from University College London in 2012. During his PhD, he started developing new algorithms to cluster and mine documents and research new user interfaces for one of the largest search engines. During his PhD, he undertook several internships with Microsoft Research and Fuji-Xerox Palo Alto Labs before accepting a post-doctoral fellowship at Carnegie Mellon University to develop new approaches to combine machine and human-generated data to help people find and make sense of information more effectively.
Abdigani believes one of the challenges facing the development of Africa is access to financial services. The infrastructural challenges and sparsity of data about individuals and businesses exacerbates this challenge. His research is driven by the opportunity to address this data challenge and introduce intelligent systems that will create the necessary credit and financial profiles that could transform the continent. Further, this could lead to an increase of up to $400 Billion (~12% GDP), and help in achieving several of the Sustainable Development Goals.
Currently, as Research Manager with IBMResearch Africa, Abdigani's team is developing new approaches to securely mine, model and score individuals who are applying for a loan identifying the right amount of credit and appropriate products. Last year, they developed a machine learning approach that leverages new data sources (mobile phone behavior) to evaluate the financial profile and credit score of hundreds of millions of people in Africa. This technology was deployed in East Africa and now is being used to credit score millions of people so they can access financial services through their phone.
He is also currently working on conversational agents and deep learning techniques to personalize content relevant to people's context. Abdigani applied for the NEF Fellowship to share his life's work, and to inspire young Africans to join the sciences. He believes science, technology, mathematics and engineering are fundamental to addressing the challenges facing Africa. He has published over 35 papers and patents. Abdigani has been the recipient of a TED Fellowship, and been named on MIT Technology Review's 35 Innovators under 35. He also co-founded Somalia's first Startup Accelerator and Technology Fund and co-founded the largest professional body for Somalis, 'Worldwide Somali Students and Professionals'.
BACK TO PROFILES