NEF Ambassador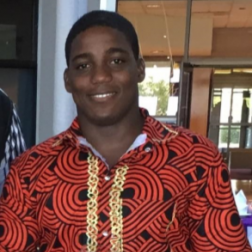 Paulo Emanuel Batista
São Tomé and Príncipe
Paulo Emanuel D'Alva is an Architect and entrepreneur, with a degree in Architecture and Urban Planning from DeVry FANOR. He has extensive experience in Sustainable Architecture, having worked at the U.S. Green Building Council.
A finalist at Africa Entrepreneurship Award in 2016 edition, he was also selected by the U.S. Government to participate in Mandela Washington Fellowship for Young African Leaders. Paulo is driven by his commitment to creating a sustainable business ecosystem in Sao Tome and Principe that will facilitate more commercialization of innovations.
Currently, he is the Deputy Director of DALVAGAUP, the largest Architecture firm in Sao Tome and Principe. As an entrepreneur Paulo has developed several projects aimed to address the problems faced by the African community and he plans to continue with his work of supporting youth empowerment through mentorship.
BACK TO PROFILES