NEF Ambassador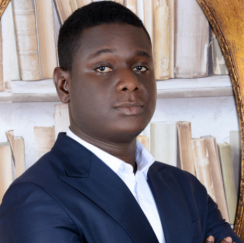 Ghislain Dessieh
Côte d'Ivoire
Ghislain Dessieh is a consultant in Sustainable Development and Social Innovation and a lawyer by training, with a degree in Business Law from HEC Abidjan. Guided by his passion for science and technology, Ghislain is part of Africa 4 Tech's Young African Innovator Program, which brings together 40 young Africans innovators in the field of technology, health and energy.
He is the founder of SOCIAL BIOGAS, a startup campaign for the democratization of access to clean energy, using a kit that allows to make homemade Biogas and the Secretary General of the Baby Lab which is the first Fablab of Côte d'Ivoire, registered in the MIT directory.
His commitment to the transmission of culture science and technology in Côte d'Ivoire and Burkina Faso, allows him to represent his country Côte d'Ivoire to the Young International Scientific Talent of UNIVERSCIENCE in Paris.
BACK TO PROFILES