NEF Ambassador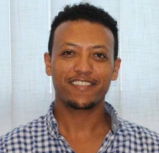 Binyam Sisay Mendisu
Ethiopia
Binyam's research interests include the descriptive study of Omotic languages and the study of mother tongue education in Africa. He is currently employed as program officer for teacher education and curriculum development by UNESCO's International Institute for Capacity Building in Africa. His recent publications include an edited book entitled 'Multilingual Ethiopia: Linguistic Challenges and Capacity Building Efforts'.
Binyam pursued both his BA and MA studies in Linguistics at Addis Ababa University and from 2004 – 2008, he did his PhD at the University of Oslo where after he got reinstated at Addis Ababa University as an Assistant Professor of Linguistics in 2008, and later promoted to Associate Professor position in 2016.
In addition, he has assumed various academic leadership positions, including Graduate Program Coordinator and V/Chair of Department of Linguistics and Dean of Faculty of Humanities.
BACK TO PROFILES