NEF Ambassador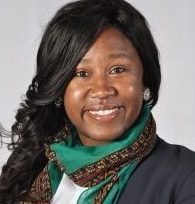 Aibate Hatago Stuurmann
Namibia
Aibate Hatago Stuurmann is a researcher, investigating polymer science, currently pursuing her PhD at the University of the Namibian. She holds a Master's degree in Science with research interest on Ethno-pharmacology, drug discovery and development focusing non-communicable diseases.
Also, she is affiliated to Southern Africa Network for Biosciences (SANBio), a platform for shared research, development and innovation for health, nutrition and health-related intervention areas such as agriculture and environment. The Southern African Biochemistry and Informatics for Natural Products (SABINA) fellow. She has several years of practical and applied experience, in various multidisciplinary research areas of Science.
Stuurmann is passionate about youth empowerment and development, as they are the drivers of the future. Her intentions are to contribute significantly using scientific research and its applications for the growth and development of Africa by sharing knowledge, skills and ideas with different key communities of science in Namibia, Africa and the entire world through.
BACK TO PROFILES