COMITÉ DU PROGRAMME SCIENTIFIQUE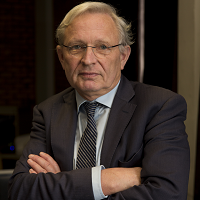 Peter Tindemans
Secretary General, EuroScience
He is working with the World Bank and UNESCO and governments in Africa, Latin-America, the Middle-East and Asia.
PhD in Theoretical Physics from Leiden University.
Well-known for his contributions to science, technology and innovation policy in the Netherlands, Europe and globally.
He was responsible for Dutch research and science policy from 1991-1999 covering all fields of science (including SSH: "Kleine Letteren/Baby Krishna"; International Institute for Asian Studies IIAS; International Institute for the Study of Modern Islam)
Chaired the establishment of the Pan-European Research and Education Networking infrastructure and OECD MegaScience Forum
Independent consultant in developing European policies for science, technology and innovation in general,
Chairman, the European Neutron Spallation Source(2000-2010).
Member of the International Scientific Site Advisory Committee for the Square Kilometer Array.
Responsible for the merger of all major Dutch biodiversity collections into Naturalis Biodiversity Centre, Netherlands
Founding member of Euroscience
Convened the Science Policy Group as chair and member involved in ESOF Governance and Supervisory Committees
Director of the Koninklijke Hollandsche Maatschappij der Wetenschappen
Member of the International Scientific Programme Committee, Next Einstein Forum.
BACK TO PROFILES