NEF Ambassador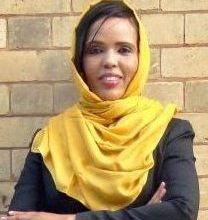 Sadiyo Siad
Somalia
Dr. Sadiyo is a founder and Chancellor at Hano Academy. She is a medical multi-specialist, lecturer, consultant, social entrepreneur and a philanthropist. Her medical education includes a PhD in Tuberculosis (Mycobacterium tuberculosis, the causative agent of TB) and Immunology at the University of Leicester, UK.
She attained two Master's Degrees, one in Infectious Diseases and Immunology, another in Medical Diagnostics, plus a PGD in Medical Pathology, with Honors in Undergraduate Degree at the University of Leicester and Cranfield University, plus a Diploma in Nursing from her early work as a nurse and midwife assistant.
In 2015, she established Hano Academy which is the first and only accredited Academic Progression and Polytechnic Academy in Somalia that offers: (i) Languages and Professional Development Courses and Training to academics, civil servants, university graduates and formally educated individuals, (ii) Technical and Vocational Education Training (TVET) to technical labour-oriented individuals and (iii) Job Creation and Employment Opportunities through a Social Innovation Hub and Recruitment Agencies (Hano Recruitment Agency and Khibrad Recruitment Agency).
Hano is a Somali word which means 'Achieve'. This is her brand name of several social enterprise ventures which are contributing to Somali's economics, peace building, employment and social development.
BACK TO PROFILES