NEF Ambassador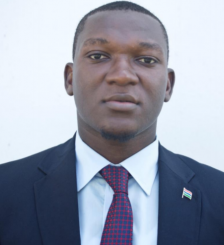 David Jeng
Gambia
avid Jeng is the Project Manager for Give1 Project Gambia, whose goal is to create leaders in their communities. The project has implemented 8 tech camps in ICT for girls, leadership and entrepreneurship training, implemented the Akon Lighting Africa pilot project in the Gambia. David is a certified UNCTAD-Empretec National Trainer. He has trained more than 2000 entrepreneurs in the Gambia.
Currently, he is the Business Support Coordinator at Startup Incubator Gambia, which is the first business incubation hub for startups and have incubated 62 startups and created more than 180 jobs from 2015 to date.
He is most passionate about creating jobs especially for women and youths, to Impact, empower and change their lives and to facilitate economic opportunities in order to address not only the global digital gender gap, but also bring African women at par with their counterparts around the world in STEM fields especially.
As the Project Manager, Give1 Project Gambia, he implements ALL GIRLS TECH-CAMP across the country. The Tech Camp provides training for young girls through intensive and interactive sessions aimed at introducing participants to Web Design, Computer Graphics, Coding, and Database Design, laced with career talks and advice from leading women in technology in The Gambia.
BACK TO PROFILES