NEF Fellow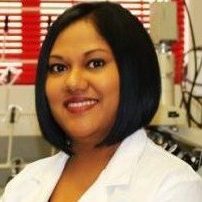 Alisa Phulukdaree
Country:
South Africa
Area of Research:
Medical Biochemistry
Institution:
University of Pretoria
Einstein Challenge:
Alisa aspires to collaborate with mathematicians, computer scientists, basic scientists, clinicians, and public health scientists to develop personalized health tools that are able to instantly screen genetic and epigenetic susceptibility risk factors with minimal costs, provide therapeutic interventions.
Alisa's experiences emerging from South Africa's public schooling system in a poor community rife with
social inequalities molded her teaching philosophy, that the one common factor that assisted young
people's escape from the harsh poverty of our community is obtaining an education. With this
knowledge, guidance and motivation from school teachers – notably Dr. Kripnath Maraj, Mrs. Anusha Govender, Ms. Ujala Sewpersad and Dr. Anusha Pillay and university professor, Prof. Anil Chuturgoon – despite many challenges, Alisa did the unthinkable for a township female: She obtained a PhD. Alisa was only able to pursue a university education through the financial aid obtained from a bursary from the POST and Phoenix Plaza Bursary initiative and academic award for meritorious achievement in the grade 12 National Senior Certificate examinations. She obtained an honours degree in 2007, receiving a scholarship to pursue a masters in Medical Biochemistry. She completed her masters in 2009, also with honours. She went on to complete her PhD in Medical Biochemistry in 2012.
Currently, Alisa is a Senior Lecturer in the Faculty of Health Sciences at the University of Pretoria. She came to the University of Pretoria from the University of KwaZulu-Natal where she had been a postdoctoral fellow. In terms of research, she is in the process of setting up a microRNA analysis molecular laboratory which will complement current research in the Department of Physiology. Her aim is to create a link between clinical research and lab-based research such that clinicians may have access to a research laboratory which is not only capable of assessing genetic and epigenetic changes, but that which will also evaluate pathological mechanisms of disease at the cellular and molecular level. She iscurrently involved with the supervision of two Masters and two PhD students evaluating specific gene polymorphisms that increase the susceptibility to non-communicable diseases such as Type 2 Diabetes Mellitus, Coronary Artery Disease, Asthma and Inflammatory Bowel Syndrome.
Her research collaboration with Departments of Chemistry, Pharmacology and colleagues from Physiology is focused
on screening biochemical and epigenetic changes following exposure to novel Sirtuin inhibitors – anti- cancer agents.
Alisa was appointed a member University of Pretoria Faculty of Health Science Research Committee of the School of Medicine (2016-2018). She is a reviewer for ISI-rated journals and served as a panel member for the National Research Foundation calls. To date, Alisa has authored and co-authored 41 publications in national and international peer-review journals.
Alisa is a member of the Golden Key International Honours Society, TUKS Young Research Leadership Programme, South African Young Academy of Science and mentor of the Africa Science Leadership Programme. She has received numerous scholarships including the DAAD Doctoral Scholarship (2010-2012) from the National Research Foundation of South Africa, a scholarship from the Professional
Providence Society (2012), as well as self-initiated grant from the National Health Laboratory Service Research Trust (2013).
BACK TO PROFILES