NEF Ambassador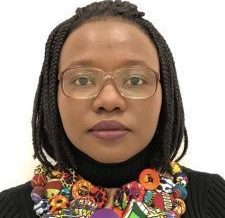 Keabetswe Tebogo Ncube
South Africa
Keabetswe Tebogo Ncube is a PhD student at ARC-BTP, doing her research in Genetics at the University of Kwa-Zulu Natal, and currently on a research program in Maryland, USA as part of her doctoral studies where she is working with the United Stated Department of Agriculture, Beltsville Agricultural Research Center.
She obtained her BTech, Biotechnology in 2013 at Tshwane University of Technology, where after she trained as a Lab assistant at Mageu No.1, A division of Foodcorp (PTY) LTD in 2010. Ms Ncube did experiential learning as a lab assistant at TUT in 2011, and later joined the Agricultural Research Council, Biotechnology Platform (ARC-BTP) in November for her BTech project and produced one publication.
Ncube holds a MSc. in Life Sciences with University of South Africa, at Agricultural Research Council, Biotechnology Platform, South Africa, with two paper dissertation produced and is a member of Agricultural Research Council, Professional Development Program (ARC-PDP) since 2013.
BACK TO PROFILES