NEF Ambassador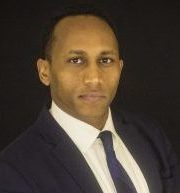 Ishmael Amarreh
Djibouti
Ishmael Amarreh is a computational neuroscientist with training in developmental neuroscience. While at the University of Wisconsin-Madison Ish examined the effects of epileptic seizures on the pediatric brain.
As part of this work Ishmael developed new computational methods to analyze neuroimaging data.In addition to neuroscience Ish obtained a master in public affairs in order to learn how public policy for science is shaped in the US. Previously, Ish was a AAAS science and policy fellow working in the office of the director of the national institute on Drug Abuse(NIDA).
At NIDA Ish worked with the associate director for scientific affairs, on planning and managing trans-NIH initiatives, including the Collaborative Research on Addiction at NIH (CRAN) and Brain Research through Advancing Innovative Neurotechnologies (BRAIN) and in planning and spearheading large longitudinal studies, such as the Adolescent Brain Cognitive Development Study.
Currently, Ish is a program officer at the National Institute of Mental Health( NIMH). In his role as a Health Scientist at NIMH, Dr. Amarreh is responsible for program development in the area of Global Mental Health Research and Scientist Development Program for NIMH. Ish is avid sports fan and enjoys playing soccer and running
BACK TO PROFILES